Postnord Pacsoft Online Integration
This app will sync shipping details from Shopify store to your Postnord Pacsoft Online account. The app can do automatic sync instantly when an order is placed in Shopify store, or you can choose to control everything manually. For each order in your store, there will be done XML posting into your Pacsoft Online account. In the app you can select and sync into any shipping services provided by Postnord. It supports multiple independent mapping so each shipping option in the store can be mapped to different transport services. Enjoy!
This app requires a contract with Unifaun and their ERPConnect addon (orderkoppling)
If you have any questions, please contact us right away!
Technical or presales questions related to this Shopify app: support@uniwin.se
Post sales support is also available through Skype. If you want to contact us through skype please send a contact request to Skype id priya_uniwin and mention your company details or contact details in the request message. Our free email and skype support will cover all your needs, however if you want any support agreement with us please contact sales@uniwin.se and we will get back quickly.
Questions related to Pacsoft Online system, please contact Postnord directly in your country.
Postnord Sweden: +46 771-33 33 10
Postnord Denmark: +45 70 11 12 30
Pacsoft Finland support: +358 10 572 8333 / Yritykset.fi@postnord.com
Postnord Norway +47 987 09300
1.  Install the app from
https://pacsoft-online.com/install.php

2. Sign up for Pacsoft Online account, and enable the ERP Connect addon (orderkoppling XML Posting, additional cost) from Unifaun. You can also contact Uniwin for enabling it for our discounted price.
3. Connect your Shopify shipping option with Pacsoft Online Printing Favorite for Print Ready shipping label, or use simple mapping for getting started easier. Check our video guide.
4. Make a test order from Shopify. The shipping label will be created in Pacsoft Online immediately. Good luck!
Pactsoftonline is outphasing
See more details here:
https://info.unifaun.com/sv/pacsoft
Orders will create shipping label in Pacsoft Online automatically or manually as your preference
Support for using Printing Favorites from Pacsoft Online for creating valid print ready shipping labels
Instead of Printing Favorites you can also use simple mapping that support easy configuration of all service types.
Feature for independent mapping of each shipping option in store to different Printing Favorites or different shipping services from Postnord
Retrieves Pacsoft Online tracking URL or Postnord Tracking link, so you can access it directly from Shopify store.
Roadmap – planned features – bugs
Error: When using Pacsoft Online with Postnord the tracking method is not working. Neither Pacsoft URL nor Carrier Tracking.
Workaround: use Unifaun Online app, then the carrier tracking method is working for Pacsoft Online, but Pacsoft URL will still not work. Note: Unifaun Online app will work with Pacsoft Online, but it is not optimized for Pacsoft Online.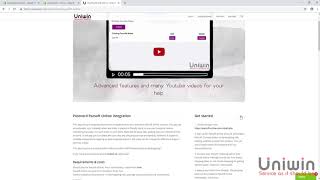 Installation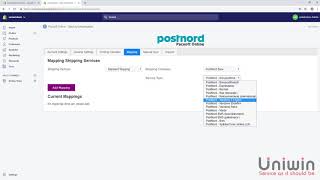 Connection Setup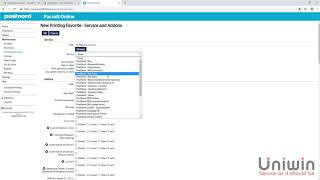 Advanced sync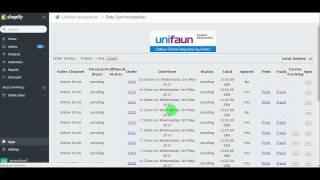 Tracking Link feature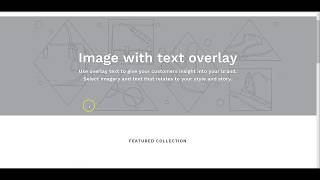 Carrier Tracking Link feature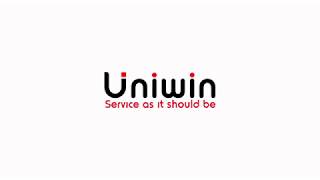 Notification Addon
Installation

This video shows you how to install the Shopify Pacsoft Online app. It lets you connect to Pacsoft Online

Connection Setup

This video shows you how to connect your Shopify store with your Pacsoft account using the Pacsoft Online app

Advanced sync

You can chose to do a basic sync or and advanced sync. Basic sync is done by mapping a shipping option with a carrier service directly from within the app, the advanced sync is done by using the Printing Favorite feature from Unifaun Online. This video shows how you do an advanced sync by adding a Printing Favorite in Shopify Unifaun Integration and map it to a Shipping Option.

Printing-Favorites.pdf

Tracking Link feature

Tracking Link feature. Retrieve Carrier Tracking URL / Shipment Tracking Number. You will need the Unifaun TrackBackDiscard addon / Unifaun Plus membership.

Carrier Tracking Link feature

Tracking Link feature. Retrieve Carrier Tracking URL / Shipment Tracking Number. You will need the Unifaun TrackBackDiscard addon / Unifaun Plus membership.

Notification Addon

This video shows you How to enable notification addons in Pacsoft online and configure it on Uniwin App
Enable sync
By default sync is disabled. Just check on the checkboxes to enable sync, and click the SAVE button.
Connecting to Unifaun/Pacsoft
You have to purchase/enable the ERP-Connect addon (orderkoppling xml posting), before you can connect the Shopify app to it.
Uniwin is reseller of this addon from Unifaun, you can order it through us for reduced price. Check section "Requirements & costs" for more details.
Connecting you app is straight forward. Just open the Shopify app and type your Unifaun account username and password and select Unifaun Online (default) in the drop down menu if your account is from Unifaun. If you are using Pacsoft Online (Postnord), then select Packsoft Online. Finish by clicking on SAVE button. Check the video on https://uniwin.se/integrationer/shopify-unifaun/
Add a sync option
You can map any of your shipping option with any carrier service from Unifaun. As an example, if you want to use DHL Express for your Standard Shipping, do like this:
Step 1: Select "Standard Shipping" in Shipping Options.
Step 2: Select "DHL" in Shipping Company
Step 3: Select "DHL Express 12:00 Domestic" in Service Type.
Step 4: Click on "Add Mapping". Now there will be added a mapping under the section "Current Mappings"
Step 5: (optional) If if want to add any additional attributes to shipping label, click on the EDIT button for this mapping. If you leave all attributes empty, then your shipping label needs to be finalized before it can be printed; until then the shipping label will have status "Invalid" in your Unifaun interface.
Check the video on https://uniwin.se/integrationer/shopify-unifaun/
Manual Sync
A valid "Mapping" must be created before you can use the Manual Sync option.
Step 1: Click on "Manual Sync" link
Step 2: Find the ORDER that you want to create shipping label for, and click on the sync button ">>" for creating the label in Unifaun.
Note: If a valid mapping does not exist for the selected order, it will show an error.
Check the video on https://uniwin.se/integrationer/shopify-unifaun/
Printing Favorites
Step 1: Login to your Unifaun Online / Pacsoft Online and create a Printing Favorite
Step 2: Open Shopify App and type the name of the printing favorite in field "Printing Favorite Name" and click "Submit"
Step 3: When mapping a shipping, now please select Printing Favorite on "Shipping Company" and select your created Favorite afterwards.
For more detailed instruction:  Printing Favorites User Guide.pdf
Are there additional costs?
No, your only cost is 20$ monthly for up to 1000 orders per month. If you need any technical help with your webshop, that is not related to this app, then it will be billed our ordinary hourly rates.
Support Included?
All support through email is free
Can I change Plans or cancel at any time?
Of course. You pay for each starting month.
Do you have any technical documentation?
Please contact us with information about what kind of technical information you need, we will provide!
Error: You don't have permission to access /ufoweb-prod-2017xxxxxxxx/order on this server
If you get this error, you might not have enable your ERP Connect (Orderkoppling). Please follow our provided instruction to enable XML posting.
If you need any help, please contact our support.
I get status INVALID on shipping labels
When you are mapping a Shopify shipping option (for instance Standard Shipping) to a carrier service (for instance DHL Express) then there are several values necessary to make the label VALID, and those values are obviously not set. So map your Shopify shipping option to a Unifaun Printing Favorite to get a VALID label. You find video guide and written PDF instruction on our website.
There were some problem while installing the app, please re-install it.
Error message: There were some problem while installing the app, please re-install it.
Possible problem: You get this message when you try to access any one of this app's feature or when you do any changes and give save in the app settings, but its been a while or opened the app page long time ago in Shopify.
Possible solution: Due to security purposes we have a short session span in our Shopify apps try to re-open the app so there won't be issues. Otherwise try multiple browsers.