Shopify Fortnox Integration
This Fortnox app for Shopify is a user friendly app for the most common flow when you use Fortnox as your billing and accounting system.
This Shopify-Fortnox Integration will sync CUSTOMERs, PRODUCTs, ORDERs/INVOICEs from Shopify to Fortnox. It is a one way sync from Shopify to Fortnox, except STOCK sync where Fortnox is base, so Shopify is updated from Fortnox.  App is tested on Internet Explorer and Google Chrome. App is NOT tested with Safari or Firefox.
Work Flow – The way this app behave is briefly like this:
When a customer place and order in Shopify, this order is synced to Fortnox as an ORDER. You will be able to find this order in Fortnox Admin->Orders. This sync will happen if you tick the box for "Enable Order Sync" in the app, and you will need the Fortnox Order Addon. If tick on "Create Invoice for each order" option, then the synced order will be converted into an INVOICE in Fortnox. You will need the Fortnox Invoice addon for this feature.
For using this Shopify app monthly billing for the app is 20$ including 1000 orders sync, and for using it with all features you will need below modules from Fortnox:
API INTEGRATION (paid addon from Fortnox, must have, price around 59SEK)
ORDER & QUOTE (paid addon, must have)
INVOICING (paid addon, needed for creating invoice based on order)
1.  Install BETA from https://uniwin.io/shopify-fortnox/install.php

2. Enable API and ORDER addon in Fortnox
3.  Create API key and connect your store, check the HOW-TO videos.
4. As minimum tick the boxes for Enable Article Sync, Enable Customer Sync, Enable Order Sync.
5. Now place and order in your store and the order should be visible in Fortnox Admin->Orders. Good Luck.
Sync CUSTOMER
Customers are synced from Shopify to Fortnox. When a new customer signup or create an order, he will be created in Fortnox. When an existing Shopify user makes a new order, the same customer will be used again without creating a new customer.
Sync ORDER
When an order is placed in Shopify, it will be synced into Fortnox as an order. You can also automatically create an invoice for each order. You must enable the ORDER & QUOTE module in Fortnox for syncing orders and for creating invoice.
Sync PRODUCT
When a new product is created in Shopify, it will automatically be created in Fortnox also. When you change the name or other attributes of a product, it will be synced into Fortnox also. By DEFAULT the app will do the mapping between a Shopify product and Fortnox article using the Shopify_SKU and Fortnox_Item_Id.
Sync INVOICE
When an order is placed in Shopify, it will be synced into Fortnox as an order. App will automatically create an invoice for each order.
Posting INVOICE
You can automatically post all invoices in Fortnox.
Sync STOCK
This is a multishop feature and Fortnox is considered as base. Stock value in Fortnox will be updated into Shopify when this feature is run.
Installation: Install the app from https://uniwin.io/shopify-fortnox/install.php or go to Shopify app store and search on 'Fortnox'. Uniwin's Shopify-Fortnox Integration will show up, click on "GET" and follow the wizard.
Configuration: Login to your Fortnox account and go to Manage Users->Add Integration and then type "Uniwin". When you type Uniwin then the Shopify Fortnox Integration will show up. Just select it, then a API-key will be shown. Copy this API-key and paste it into the app's "Fortnox API Code" field and save the setting. The app only needs this API-key to link your Shopify shop with your Fortnox account. Now you can enable the sync independently for CUSTOMERS, PRODUCTS or ORDERS.
Enable sync
By defaut sync is disabled. Just check on the checkboxes to enable sync. You can enable/disable independently, but we recommend that you enable all of them: product, customer, order. You must enable ORDER & QUOTE module in your Fortnox account for syncing orders.
Create Invoice
You can enable this option if you want to create invoice automatically.
Updating stock value
Click on Update/Sync to update your stock from Fortnox to Shopify
Invoice Posting
When this feature is enabled then invoice will also be posted automatically using the predefined account settings in Fortnox->Settings->Invoice->Predefined Accounts.
In most cases it is enough to specify the accounts for: Sale Goods, Sale Service, Account Receivable, Tax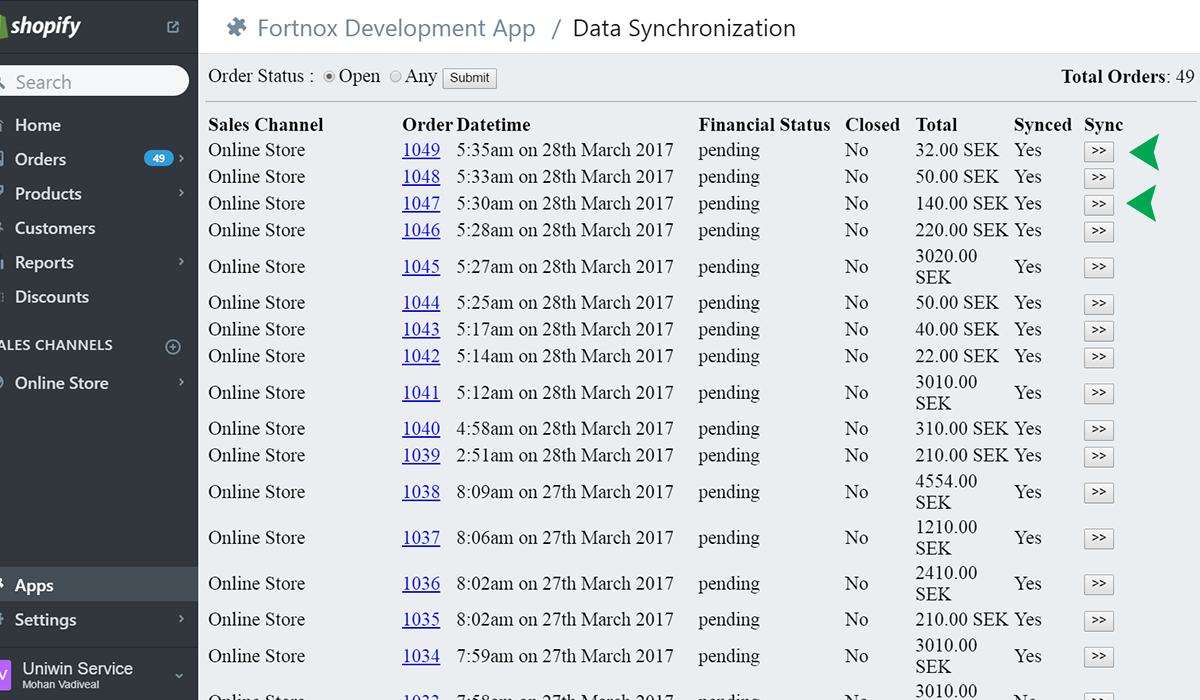 Manual Sync
Use the sync button to manually sync order/invoice to Fortnox
Are there additional costs?
No, your only cost is 20$ monthly for up to 1000 orders per month. If you need any technical help with your webshop, that is not related to this app, then it will be billed our ordinary hourly rates.
Support Included?
All support through email is free
Can I change Plans or cancel at any time?
Of course. You pay for each starting month.
Do you have any technical documentation?
Please contact us with information about what kind of technical information you need, we will provide!
Error Message: Det finns ingen aktiv licens för önskat scope.
You get this error message if you are missing an addon service needed for the feature you are using.
Please make sure that you have enabled the ORDER & QUOTE addon in your Fortnox account on Manager Users section. If you have enabled INVOICE POSTING in the Shopify App then you also need to enable the INVOICING addon in Fortnox. Check image below: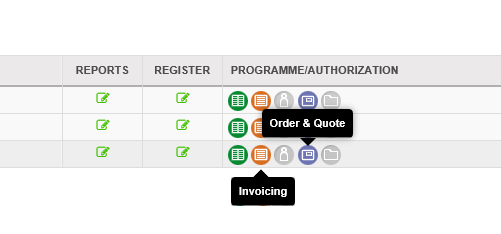 If this does not solve your issue, please contact Uniwin Support
Error Message: Kunde inte hitta konto
You get this error message if a required value is missing in the "Predefined accounts" (Förvalda konton) settings in your Fortnox account, or if it is entirely missing in your Account Plan (Kontoplan). You can try to manually create and order and an invoice in your Fortnox account to verify which of the case is true for you, because Fortnox will show you an error message with more details when you do it inside Fortnox interface.
Solution:
If the Predefined Accounts are missing in Fortnox, you have to go to Settings->Acconting->Predefined Accounts, and here you have to fill in your values. Most common values are 3011, 3018, 3016, 3015.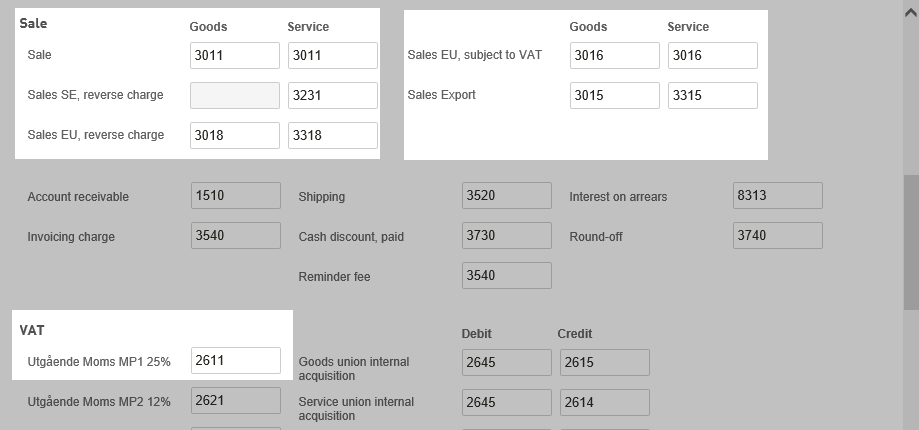 Make sure the values you provide are available in your Account Plan also. You check this in Register -> Account Plan.
If this does not solve your issue, please contact Uniwin Support